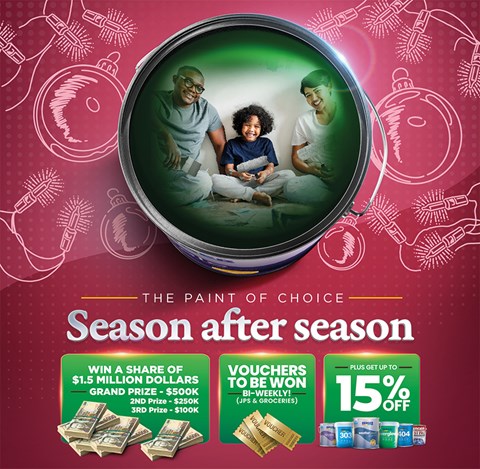 Shoppers will receive a physical "prize code" for every two (2) gallons of eligible Berger Paints purchased in participating hardware stores and the Colour Shop. Eligible products are Berger Everglow, Berger Weatherproof Ultra, Berger Royale Satin, Berger Royale Gloss, Berger 404, Berger 303, and Berger Rust Pro. Eligible products can be purchased in quarts, one gallon, or 5-gallon pails.
A physical prize code will be provided by either the Berger promoters or the supervisor of the participating store.
To enter for a chance to win the bi-weekly, grand, second, and third prizes entrants are required to:

Visit the website www.bergerpaints.mobi and enter the prize code along with their contact information (name, email address, and telephone number). The entrant's name and phone number are mandatory, however, the email address is not.
The entrants can also enter by sending a text message with the prize code along with their contact information to the number 876-596-4369 on the Digicel network. Local SMS rates will apply.
All entrants must retain their receipts (proof of purchase) and prize code for the collection of prizes.

The Promotion is valid from October 17, 2023, until 11:59 PM EST Friday, December 22, 2023. BERGER PAINTS is not responsible for late, incomplete, misdirected entries or printing errors. All entries received from ineligible entrants will be void. All entries become the property of Berger Paints.
Each prize code can only be used once, and all subsequent entry submission with the same prize code will be void.